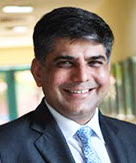 Parul Soni
Global Managing Partner, TTC
Transforming Consulting into Value Creation

The first three quarters of 2018 saw a whirlwind of activities.
Here we are, sending you the fourth edition of the TTC newsletter already! Dussehra has just departed, Diwali is around the corner, and exciting things have been happening at TTC.
Our long-term vision is to transform consulting into value creation. In the service of this ambitious goal, I am proud to announce two of our recent outstanding achievements. TTC is now the official Knowledge Partner to the Global Taskforce of Foundations (GTFF) for the International Solar Alliance (ISA), where we are supporting the Global Task Force of the Alliance towards bridging the energy gap by 2030, and strive to drive energy self-sufficiency in ISA member countries across the globe using stakeholder-centric approach, through strategic partnerships with reputed foundations. We have also finalised a partnership with the Directorate of Indian Army Veterans (DIAV), for the welfare of Indian soldiers, and their wards and widows, by facilitating corporate support.
In addition to these energizing milestones, Team TTC has been making its presence felt in far-ranging arenas from Ladakh in India, to Tbilisi in Georgia. We have expanded our presence in Karnataka, Maharashtra, Nagaland, Odisha, Rajasthan, and also in Dhaka, Bangladesh. In Tbilisi, Dipankar Ghosh and I recently conducted Masterclasses on Low Carbon Economic Growth, and Strategic Leadership for Sustainable Development, at the Global Business & Investment Forum, that drew over 350 delegates from government and businesses from all over the world.
I am also glad to share that I have been nominated as the India Board Member for Georgia & Asia-Africa Chamber of Commerce (GAACC). As the Indian representative for GAACC, I will be facilitating global investments in Georgia, and helping increase business opportunities between India and Georgia. Georgia has been steadily working its way up the economic ladder since the mid-1990s, and is poised to take its place among the developing economies of the world. I am looking forward to being a part of what promises to be an exhilarating journey in the years to come.
It is thrilling to note the progress we have made over the last year, and to contemplate the great things the future surely has in store. I am extremely grateful that we have been provided with the opportunity to help bring about positive impact while doing the work we love.
I leave you now with best wishes for the coming festive season and will be in touch with you all again in 2019.