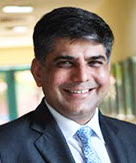 Parul Soni
Global Managing Partner, TTC
Providing integrated services
Solutions to achieve Global Goals (SDGs) 2030
We started Thinkthrough Consulting three years back, initially focusing on development sector and CSR. Within a year, we extended our functional portfolio in diverse practices embracing sustainability, climate change, ethical business and beyond. We are firm in our belief that it is the synergy of different domains of sustainability that creates the difference – not only in business and government operations, but also in the lives of people. We are truly passionate about 'connecting ideas for impact', that we demonstrate each day while partnering and servicing our clients on a range of thematic areas related to sustainability.
Today, we define ourselves as a multidisciplinary professional services organization that specializes in providing advisory support to every initiative that is related to sustainable development – directly or indirectly. We offer integrated solutions that support the aspirations of our clients to maximize the impact through their projects – whatever be the dimension of the initiative.
TTC is a collaboration of talented minds and competencies that is diverse, but aligned to a common and well-defined purpose, which is accelerating the process of sustainable human development. Our leadership and multi-disciplinary team, leveraging on their stellar professional credentials, extensive experience and in-depth knowledge of sustainable development initiatives globally, ensure delivery of effective and optimal solutions to our clients' needs.
In today's context, we firmly believe that alignment with the 2030 Global Goals (the SDGs) is important for all organisations – especially to support the country to achieve the Goals. We therefore, made it our mission to contribute in supporting our clients in such alignment, and projects for creating impact. Examples of some such projects we recently delivered are captured in one of the subsequent sections.
You are receiving this newsletter, because you have engaged with us, at some point of time, on some topic, either on a project or just a dialogue on a theme that you considered relevant to sustainable development. On behalf of Team TTC, I express our sincere gratitude for working with us, and we will endeavour to continue our dialogue for enabling you to create impact through our insights.